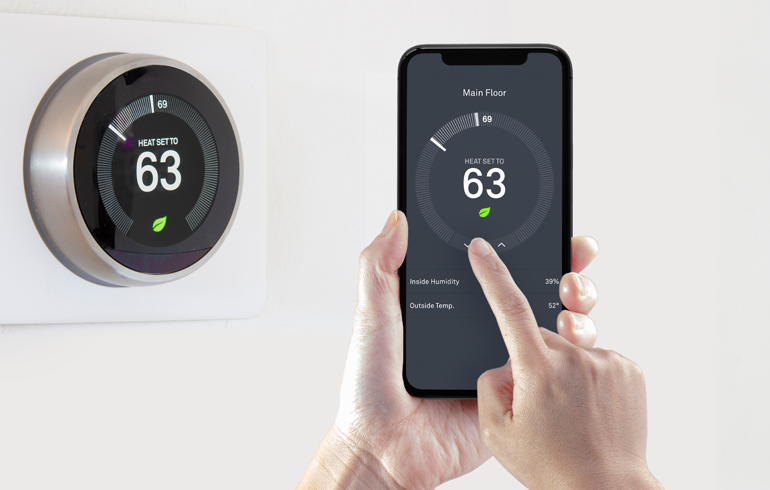 Smart Thermostats
The HVAC industry is constantly evolving, with new technologies emerging every year. One of the most exciting new developments in the industry is the use of smart thermostats. These thermostats are revolutionizing the way people control the temperature in their homes and businesses, and Hulbert Heating & Air Conditioning is proud to be at the forefront of this technology.
Smart thermostats are programmable devices that connect to your home's Wi-Fi network. They allow you to control the temperature of your home from anywhere in the world, using your smartphone or tablet. This means that you can adjust the temperature of your home while you're at work, on vacation, or anywhere else. You can also set schedules for when your heating or air conditioning should turn on or off, so that you can save energy and money.
According to a recent article in Forbes, the market for smart thermostats is expected to grow rapidly over the next few years. The article states that "the smart thermostat market is expected to grow at a CAGR of 19.2% from 2021 to 2028." This growth is being driven by the increasing demand for energy-efficient and eco-friendly heating and cooling solutions.
At Hulbert Heating & Air Conditioning, we are committed to providing our customers with the latest and most innovative HVAC solutions. That's why we offer a wide range of smart thermostat options from top brands like Nest, Ecobee, and Honeywell. Our team of experienced technicians can help you choose the right smart thermostat for your home or business and install it quickly and efficiently.
In addition to providing you with greater control over your heating and cooling, smart thermostats can also help you save money on your energy bills. According to the U.S. Department of Energy, you can save as much as 10% per year on heating and cooling costs by using a programmable thermostat. With a smart thermostat, you can save even more by taking advantage of features like geofencing, which adjusts the temperature based on your location.
In conclusion, smart thermostats are a game-changing technology that is transforming the HVAC industry. At Hulbert Heating & Air Conditioning, we are proud to offer our customers the latest and most innovative solutions for their heating and cooling needs. If you're interested in upgrading to a smart thermostat or learning more about the benefits of this technology, please contact us today. Our team of experts is ready to help you save money and improve your comfort!
Doug Hulbert